In this month's ZOUNDS! ...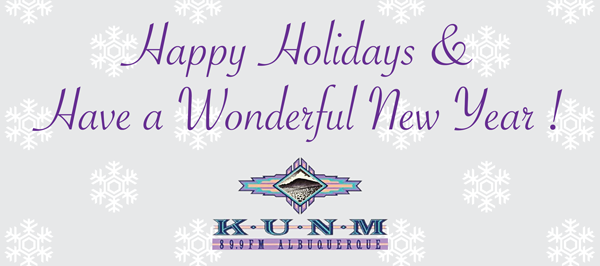 By Richard S. Towne, General Manager
KUNM has been affiliated with the Corporation for Public Broadcasting (CPB) for many decades. You are likely to know and understand the importance of CPB to the many local public radio and public television stations across the land. As a private corporation funded by the American people, CPB distributes community service grants each year to stations like KUNM and NMPBS.

This year, CPB has awarded KUNM $237,436 which we will spend on acquiring broadcast rights for many of our non-local shows. Through your generous giving to KUNM, we can leverage the CPB grant to fund many other parts of our operations. On December 8, 2017, CPB's President and CEO Patricia Harrison sent a message, reprinted below, to all of the stations funded by CPB.

In her e-mail, Ms. Harrison wrote the following, "With the elevated attention in today's news related to violations of law, especially those associated with discrimination, both outside and within public media, we believe it is important that all of us take extra steps to ensure that our organizations fulfill their responsibilities in providing a safe workplace. Please review this document and share within you organization."

I am sharing this with you because you are part of our organization. As Ms. Harrison points out, this is more than a compliance issue. "… because it's the right thing to do …."

My best regards to you and yours for the coming New Year.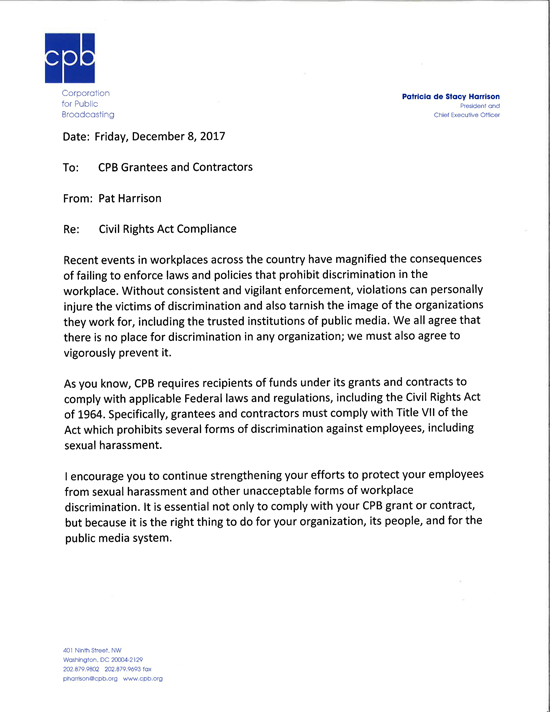 Beauty, Buttons & A Bike!
By Mary Oishi, Development Director


We just never know when magic shows up: an idea, a meeting, a phone call—and everything changes. That happened several times in 2017.
First, one of my co-workers got the idea to make KUNM buttons. So we put the word out to our volunteers to look for artists who would donate their work, and we also asked our UNM student artists to try their hand at some button designs. Tim Oswald, who sometimes subs for the Rock N Roll Doctor, had already done a poster for the Psychedelic Radio Head Shoppe. So we started with his work and "psychedelicized" it.
Then we got permission from many more artists to use their work: J.D. Sipe Folk Art, FagerstromFotos, Jan Bartlestone, Takao Fujioka, Gwen Triay Samuels, and Sachiko Umi. Our student artists, Keith Johnston and Geneveive Valerio, also came up with some really great designs. We will print a limited number of each.

Around the middle of January, these buttons will be available to reserve by mail or on-line. I'm excited!
Charlie at Two Wheel Drive was kind enough to donate a Grand Prize for our Spring pledge drive: a beautiful Salsa Horsethief bicycle valued at $3295.
But we had no Early Bird prizes for our renewing members who send in by mail or renew on-line before the pledge drive starts. This is always a big help, because then when we go on-air, we have a lot of wind at our backs and it's not so stressful because we know we already have a lot of renewals. It also allows us to concentrate on getting new members, which is one of the main reasons we do pledge drives.
That's when we got a phone call from Jan Bartlestone, offering 40 beautiful New Mexico calendars, filled with gorgeous scenes from our beautiful state. So the first 40 people who respond to the mailing in mid-January will be sent one of Jan's amazing calendars. Also, everyone who responds will be in the drawing for his equally lovely coffee table book, also with scenes of New Mexico.
Magic keeps happening—and I have faith that you and everyone who volunteers their time or resources will help to keep it happening throughout 2018.
Public Health Reporting Update
By Rashad Mahmood

It's been a great year for KUNM, and our Public Health New Mexico reporting project. We wrote about important stories including the uncertainties around healthcare, the opioid epidemic, how sexual assault evidence kits often go untested, and many more. We're looking ahead to a busy year in 2018, with some big changes to the project. In January we are looking forward to bringing a new public health reporter into the KUNM family. At the same time, we're saying goodbye to longtime reporter Ed Williams.
During his three and a half years on our team he covered a wide range of issues including environmental contamination, indigenous sovereignty and land rights, and the implementation of the Affordable Care Act in New Mexico. He earned a slew of awards for his work, including a national award for his investigative reporting on a toxic groundwater plume in the South Valley.

Ed will be leaving us in January to join the team at Searchlight New Mexico, a new nonprofit investigative journalism outfit based in Santa Fe.

We'll miss you, Ed!
From Ed Williams on leaving KUNM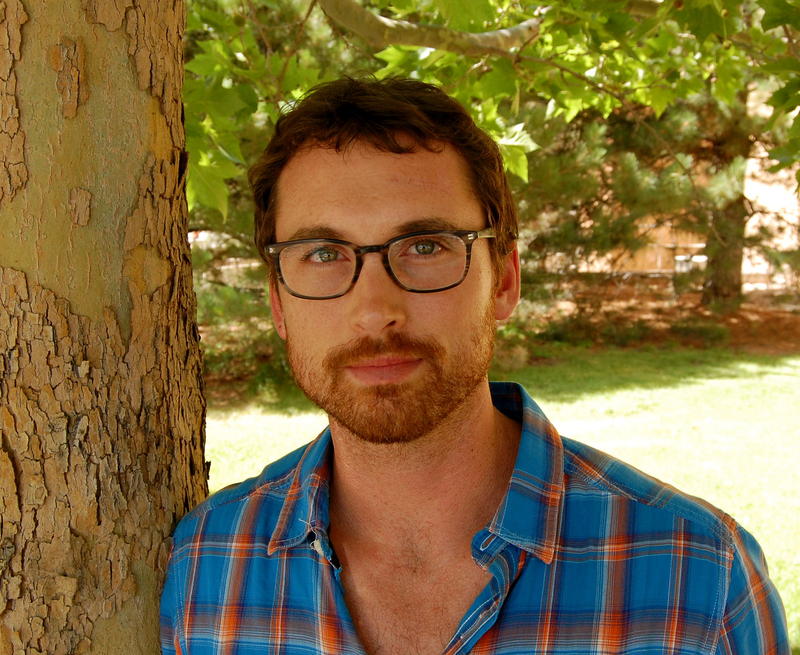 After three and a half amazing years at KUNM, I'm parting ways with the station to take a new job as a reporter at Searchlight New Mexico, a new nonprofit investigative journalism startup in Santa Fe. It's a bittersweet thing to leave such a great station, even for an exciting new opportunity. I will miss KUNM's listeners, staff, and my awesome co-workers on the news team. Reporting on poverty and public health, uncovering environmental hazards, and bringing the stories of New Mexico's communities to the airwaves has been truly life changing. I'm leaving KUNM in good hands though, and I can't wait to see what comes from the news team in the future!
Saturday, January 6
6:00 am
New Dimensions: "New Worlds Emerge When Patterns Break Down" with Marguerite Moore Callaway
The world is changing and we must learn to move and change with it. Each of us must cultivate our leadership capacities and assume responsibility to manifest creative solutions. Callaway shares how we can cultivate our own leadership qualities.

Marguerite Moore Callaway is author of The Energetics of Business

Sunday, January 7
6:00 pm
Radio Theatre: "A Father's Love" Two short plays by Lynn Rosen and Andy Reynolds

A Father's Love celebrates the unbreakable bond that exists between fathers and children--even when they test each other's patience. In Lynn Rosen's play, "I Love You", a struggling son tries to prove himself to his father, stumbling toward his own way to say "I love you". Directed by Pulitzer and Tony winner David Auburn, "I Love You" features comedic dynamos Bill Irwin and Steven Boyer. Next, in Andy Reynolds' "A Departure", a father and son bond in the most unlikely of places--an airport terminal--and discover that their love is stronger than loss. Casual conversations with playwrights, directors, and casts follow each play, moderated by Playing on Air producer Claudia Catania.

Saturday, January 13
6:00 am
New Dimensions: "Political Activism: Beyond Shouting And More than Silence" with Sam Daley-Harris
In these times of intense political polarization, civic despair is rampant. How does this affect our democracy and how can we counteract this apathy? Daley-Harris has been working tirelessly to provide trainings for ordinary citizens to empower effective political action and to help citizens be most effective in reshaping the issues they most care about.

Sam Daley-Harris is the author of Reclaiming Our Democracy: Healing the Break Between People and Government, the 20th Anniversary Edition.

Friday, December 8
8:00 am
Well Woman Show

Well Woman Radio Host Giovanna Rossi talks to Peggy Sanchez Mills, the Chief Executive Officer of the Girl Scouts of New Mexico Trails, the premier national organization for girls. They talk about the Boy Scouts' decision to include girls in their program, the impact of leadership programs on girls' long term success as well as Peggy's own story of becoming a leader through building confidence, courage and character.
Sunday, January 14
6:00 pm
Radio Theatre: "The Tug of War" (Hour One) by David Rambo
As Soviet nuclear missiles move ever closer to Cuba, President John F. Kennedy must chart a course between conflicting counsel and unparalleled emotional stakes to prevent nuclear annihilation. The newly-minted U.S. President is put to the ultimate test in this riveting original commission from playwright David Rambo. From LA Theatre Works.

Saturday, January 20
6:00 am
New Dimensions: Homer, An Eyeless Cat, Teaches Love And Courage with Gwen Cooper (repeat)
Homer survived being trapped without Cooper for days after 9/11 in an apartment near the World Trade Center. Listen as Cooper shares how his unswerving loyalty, his infinite capacity for love, and his joy in the face of all obstacles inspired her daily and transformed her life.
Gwen Cooper is the author of Homer's Odyssey: A Fearless Feline Tale, or How I Learned About Love and Life with a Blind Wonder Cat

Sunday, January 21
6:00 pm
Radio Theatre: "The Tug of War" (Hour Two) by David Rambo
As Soviet nuclear missiles move ever closer to Cuba, President John F. Kennedy must chart a course between conflicting counsel and unparalleled emotional stakes to prevent nuclear annihilation. The newly-minted U.S. President is put to the ultimate test in this riveting original commission from playwright David Rambo. From LA Theatre Works.
Friday, January 26
8:00 am
PEACE TALKS RADIO, the series on peacemaking and nonviolent conflict resolution

As high profile incidents of sexual harassment and assault continue to cascade through the news, we thought it'd be valuable to look upstream in our behavioral development for possible solutions. How can we raise our boys and girls, young men and women, to better understand sexual relationships in a way that will reduce the occurrences of sexual intimidation, assault and bullying as they all move into adulthood? Our guests will talk about open and honest communication by parents and other adults when talking with pre-teens, teens, and young adults about sex, that might prevent attitudes and behaviors that cause trouble, conflict and pain later in life. Paul Ingles hosts. This and all other programs in the series dating back to 2002 are available online at http://peacetalksradio.com.

Saturday, January 27
6:00 am
New Dimensions: Outliving the Limitation of Our Personal Stories with Gangaji (repeat)
The stories we tell ourselves about our childhood and our present life are like clothing we put on. But do these tales tell us who we truly are? Gangaji says, "For better and worse, our stories become the reference points for defining who we are, who we are with, and what it all means." How do we separate ourselves from this narrative and uncover the truth of our lives?
Gangaji is the author of Hidden Treasure: Uncovering the Truth in Your Life Story

Sunday, January 28
6:00 pm
Radio Theatre: La Vida Latina: I Was the Voice of America by Brian Herrera
Through autobiographical storytelling, this one-man show offers a mix of analysis and anecdote (both hilarious and heartbreaking) as Brian puzzles through the memories, mementos and artifacts comprising the archive of his own teenage experience. By turns comedic and contemplative, Brian Herrera's "I Was the Voice of Democracy" asks whether we ever really stop being the person we once were.

General Meeting of the
KUNM Community
---
Wednesday, January 31 at 6:30 pm
For volunteers, staff, members,
listeners and the general public in Oñate Hall, Room 133 on the UNM Campus

Radio Board Meeting
---
Tuesday, January 9 at 6:00 pm

Licensee's Meeting
---
KUNM is licensed by the FCC to the Regents of the University of New Mexico. The Regents' meetings are open to the public.
For a schedule of Regents' meetings, please click
here
ALBUQUERQUE
Acequia Investment Group
Betty's Bath & Day Spa
1835 Candelaria NW
505-341-3456
bettysbath.com
520-A Central Ave. NE
505-842-1080
bhavayogastudio.com
Dr. John Heuertz / Atlas 33
4010 Carlisle Blvd. NE
Suite F
505-220-2321
Fred & Sandra Creek, Realtors
6565 Americas Pkwy. NE
Suite 200
505-299-2580
abqhomes.com

Glass-Rite Window Installation
Service
808 Gibson Blvd. SE
1-800-824-1005
glass-rite.com

Hospice of New Mexico
2900 Louisiana Blvd NE, Suite 100
505-872-2300
hospiceofnewmexico.com

House of Bread
2000 Carlisle Blvd. NE
505-266-0622
albuquerque.houseofbread.com

Independent Vehicle Services
312 Kinley Ave. NW
505-247-9771
ivsabq.com.

Jim's Automotive
4401 Lead SE
505-256-1531
jimsautomotive.com
Lieber's Luggage
6515 Menaul Blvd. NE
505-883-8991
liebers.com
ListenUp
6916 Montgomery Blvd. NE
(505) 296-6978
listenup.com
2931 Monte Vista Blvd NE
505-205-1475
3600 Pan American Fwy. NE
505-344-0071
positiveenergysolar.com

Pregenzer, Baysinger, Wideman & Sale PC
2424 Louisiana Blvd. NE # 200
505-872-0505
pbwslaw.com
Red Rock Roasters
Self Serve Sexuality Resource Center
3904 Central Ave. SE
505-265-5815
selfservetoys.com
Shelton Jewelers
7001 Montgomery Blvd. NE
505-881-1013
sheltonjewelers.com

The Amish Connection
1009 Juan Tado Blvd. NE
505-294-2638
amishnm.com

Vessel Health
10601 4th St. NW
505-828-3000
vesselnm.com


Vibrance / Art-Food-Music
Weekly Alibi
Albuquerque's news and entertainment weekly, free every Thursday at more than 800 locations
505-346-0660
alibi.com
Whiting Coffee Company
3700 Osuna NE
505-344-9144
EDGEWOOD
The Independent
2005A Rte. 66
505-286-1212
edgewood.news
SANTA FE
Dan Cron Law Firm, P.C.
425 Sandoval St.
505-986-1334
cronlawfirm.com

Greenfire Times
Newspaper dedicated to a diverse
and sustainable green economy.
505-471-5177
greenfiretimes.com
Keshi
227 Don Gaspar Ave.
505-989-8728
keshi.com
Ten Thousand Waves
3451 Hyde Park Rd.
505-982-9304
tenthousandwaves.com
UBS Financial Services Inc.
141 East Palace Ave.
505-989-5106
ALBUQUERQUE & SANTA FE
Il Vicino Wood Oven Pizza & Brewery
Albuquerque & Santa Fe
ilvicino.com

Law Firm of Rothstein & Donatelli
Santa Fe, Albuquerque, Taos, Phoenix
505-988-8004
rothsteinlaw.com

Plants of the Southwest
6680 4th St. NW, Albuquerque
3095 Agua Fria St., Santa Fe
plantsofthesouthwest.com
LAS VEGAS
El Zócalo Cooperative Art Gallery
Afropop Worldwide
Fri. 10 p.m. Music with an African influence from around the world.

All That Jazz
M-F noon. Jazz, straight ahead to fusion.

All Things Considered
M-F 5 p.m., Sat. & Sun. 5 p.m. Award-winning news magazine from NPR.

Alternative Radio
Sat. 6 p.m. The view from the other side, from some of the most progressive writers, thinkers and activists of our time.

Art of the Song
Wed. 10 p.m. Art of the Song explores songwriting and the creative process, featuring New Mexico talent and internationally acclaimed performers.

The Blues Show
Wed. 7 p.m. The spectrum of blues music, plus interviews, live performances, and blues news.

Call-In Show
Thur. 8 a.m. Live interviews with community leaders; call in your comments and questions at 277-KUNM.

CCNS Update
Sat. 7 p.m. Concerned Citizens for Nuclear Safety presents the latest local, national and international news about nuclear issues.

The Children's Hour
Sat. 9 a.m. Enriching, educating, enlightening, and entertaining radio for kids of all ages.

Coffee Express
Fri. 1-3 a.m. Live, improvised music, voice, effects and sound collages, combined with on-air phone callers, CDs and records, tape loops, internet audio, etc. It's not jazz, but it is caffeinated.

Corazón Tanguero
1st and 3rd Saturdays, 4:15-4:45 p.m. Music/Culture program on Argentine Tango, featuring works from the Old Guard of the 1920s through the Golden Age of the 30s and 40s and beyond.

Counterspin
Tues. 8:30 a.m. A critique of the week's news coverage by other media, from FAIR.

Democracy Now
M-F 4 p.m. From Pacifica, diverse commentators focus on the issues affecting individuals and society.

Ear to the Ground
Sat. 7 p.m. Alocal music showcase, featuring live performances by local talent.

Espejos de Aztlán
Mon. 7-7:30 p.m. Bilingual arts and public affairs program with interviews.

Folk Routes
Sat. 10 a.m. A weekly sampling of the best in folk, blues to bluegrass and beyond.

Freeform
Music M-F 1:30-4 p.m.; overnights. A diverse showcase of KUNM's music library, uncovering common roots in music from different places and times.

Fresh
Thu. 10 p.m. New Mexico's international electronic and "new" music program featuring guest composers, artists and interviews.

Global Music
Mon. 10 p.m.
Exploration of music from around the world.

Grassroots New Mexico
A weekly social justice radio calendar from the Albuquerque Center for Peace & Justice.

Home of Happy Feet
Tues. 7 p.m. Folk music in the broadest sense of the term. Bluegrass, blues, cajun, zydeco, western swing, rockabilly, Tex-Mex, and more!

House that Jazz Built
Sun. 11 p.m. Uncompromising creative music from the past 30 years.

Iyah Music
Thur. 7 p.m. Reggae and roots; a spectrum of African-influenced music.

KUNM Specials
Sun. 11 a.m. From public affairs to holiday specials, the latest and best in local and national production.

Latino USA
Mon. 8:00 a.m. English-language radio journal of Latino news and culture.
Living on Earth
Wed. 8 a.m. Weekly environmental news and information program, from NPR.
Morning Edition
M-F 5-8:30 a.m. Award-winning morning news magazine from NPR.

Music to Soothe the Savage Beast
Tues. 10 p.m. Progressive and indie rock culled from new releases you're not likely to hear anywhere else. Plus live and recorded local music.

Native America Calling
M-F 11a.m. The nation's first live daily call-in program by, for, and about native people. 1-800-99NATIVE.

National Native News
M-F 11:01 a.m. 5-min. newscast focusing on Native American issues.

New Dimensions
Sat 6 a.m. Dialogues presenting a diversity of views from many traditions and cultures, with practical knowledge and perennial wisdom for a more healthy life of mind, body and spirit.

News at Noon
M-F noon. News update from NPR.

Other Voices, Other Sounds
Sun. 9 p.m. Contemporary music & sound art with an international perspective.

Performance Today
M-F 9 a.m. A two-hour program of classical music performances, recorded live; from NPR.

Psychedelic Radio Head~Shoppe
Sat. 10:30 p.m. Deep tracks from the rock 'n' roll underground. Electric music for the mind and body from the '60's & '70's.

The Radio Cafe: Science Edition
Wed. 8:30 a.m.

Conversations about Science from New Mexico and Beyond. A limited 13-week series.



Radio Theatre
Sun. 6 p.m. From traditional to experimental, set in the theater of the mind.

Raíces
Mon. 7 p.m. & Sat. 2 p.m. Latin American Freeform music, all genres of Hispanic music.

Route 66
Sat. 8 p.m. "Oldies," commentary, dedications & requests, and special guests.

Salsa Sabrosa
Fri. 7 p.m. Afro-Caribbean-influenced music.

Singing Wire
Sun. noon. Native American music, traditional to today's sounds of folk, C&W, rock.

Spoken Word
Sun. 8 p.m. You know the power of words; now hear the power of poetry. Y mas!

StarDate
M-F 7 p.m., Sat. & Sun. 6 p.m. Two-minute travelguide to the universe. What to look for in the night sky, tales of ancient skylore.

Street Beat
Fri. 11 p.m. New Mexico's source for live turntablism, mixing and scratching a variety of rare funk, rock, jazz, and soul breaks, from the old to the new.
Sub Sequence
Sat. 1 a.m. The thinking person's club music.
This American Life
Sun. 4 p.m. A quirky look at modern life through fact, fiction and found tape.

This Way Out
Fri. 8:30 a.m. International lesbian and gay news magazine.

Tombstone Rock
Wed. 11 p.m. Ear-shredding metal music other stations are afraid to play.

Train to Glory
Sun. 6 a.m. Sunday morning Black gospel music featuring traditional, contemporary, and local church choirs.

Voces Feministas
First Sat. every month, noon. Features the voices of third world women, and women of color.

Weekend Edition
Sat. 7 a.m., Sun. 9 a.m. Weekend news magazine from NPR.

Women's Focus
Sat. noon. Women's magazine on politics, art, culture, news, and information.

Youth Radio/Generation Justice
Sun 7 p.m. The voices of NM teens via news, commentary, interviews and music.