In this month's ZOUNDS! ...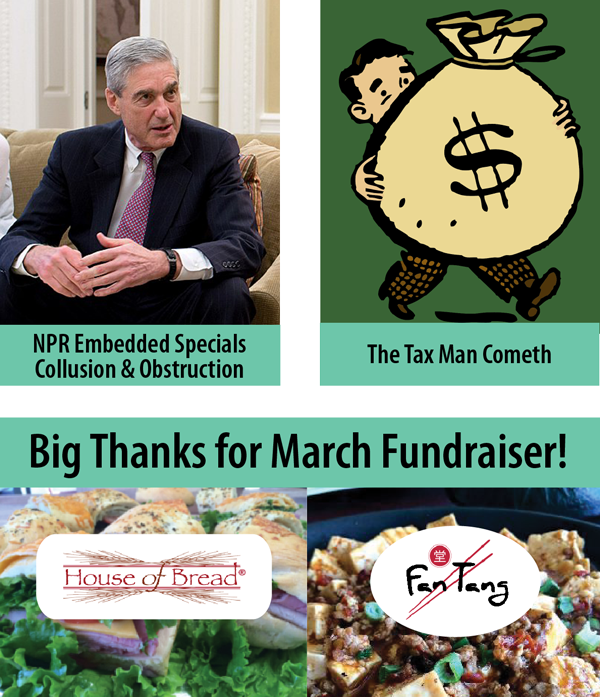 By Mary Oishi, Development Director


In this column, I can't pretend to give any tax advice. I am not a CPA and even if I were, the new tax law even has many CPAs scratching their heads.
However, I do know for sure that, if you gave to KUNM in 2017 and itemize deductions, you are eligible to claim all of your donations to us as a charitable deduction.
For the 2018 tax year, it looks like most people will find it more advantageous to take the new standard deduction of $12,000 per person (plus $1,250 over age 65 additional deduction, if applicable) than to itemize deductions.
So how can you help KUNM and help yourself financially in the process?
The answer is pretty simple if you have an IRA and are 70-1/2 years of age or older. Ask your tax consultant about Qualified Charitable Contributions (QCDs) that allow you to transfer up to $100,000 per year directly from your IRA to a qualified charity. Apparently this strategy results in lower overall taxes because it lowers your adjusted gross income as well as your taxable income, and you can still claim the standard deduction. But your tax preparer will have all of the details.
If you do not have an IRA and/or you are not over 70-1/2 years of age, giving to KUNM may or may not have a tax advantage, but consider how many monthly checks you write for things that never were a tax deduction—probably most everything except your mortgage. Most of us will keep supporting KUNM for the same main reason we did in the past: because it's the right thing to do, and it's great to have for us individually and for the community. Quite simply, we need the service KUNM provides.
In fact, did you know that radio and television broadcasters were recently added to First Responders in the new appropriations bill? We have been recognized as playing a critical role in times of disaster. Community public radio in California played a life-saving role during the wildfires that ravaged so many communities. With our live human hosts, we can respond in real time and serve as a vital hub for information when it's needed.
I will never forget a KUNM Freeform DJ opening the phone lines on 9/11 for listeners to call in and say how they were feeling, what was going through their minds on that awful day. When we needed to come together, to feel close to each other, KUNM was there and our volunteer host instinctively knew exactly what to do. It provided a level of comfort and connection that would have been impossible without KUNM.
We can never let this station go silent. As long as you can give, keep giving. When you can't give personally, you can always encourage the places you buy and the services you use to
support KUNM, because they can still write off their support as a business expense. Encourage them to call our Underwriting Manager, Chanda Shaw, at 505-277-3969. You can also volunteer to answer phones during the on-air fundraiser, which is coming up the third week in September.
You can carry your totebag or wear your pins proudly. And you can talk us up to your friends and coworkers. They will thank you later for introducing them to this unique radio station, a hub of community for over 50 years.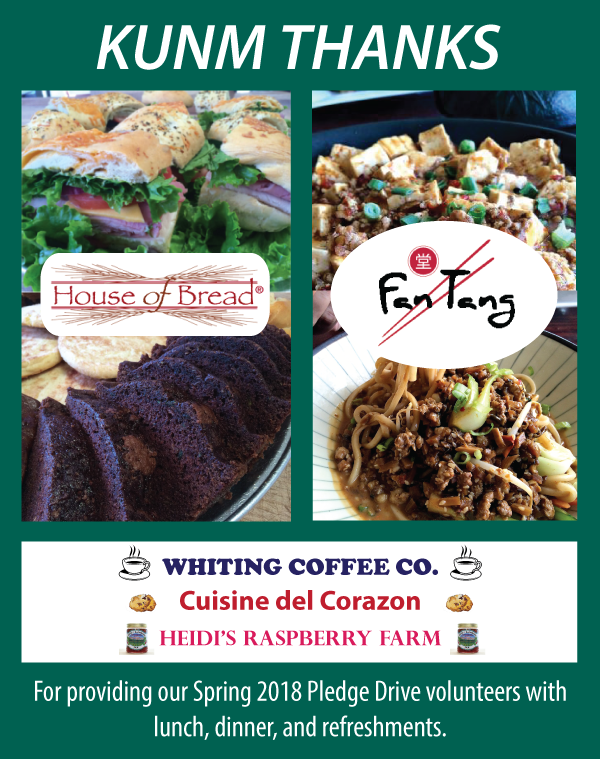 By Rashad Mahmood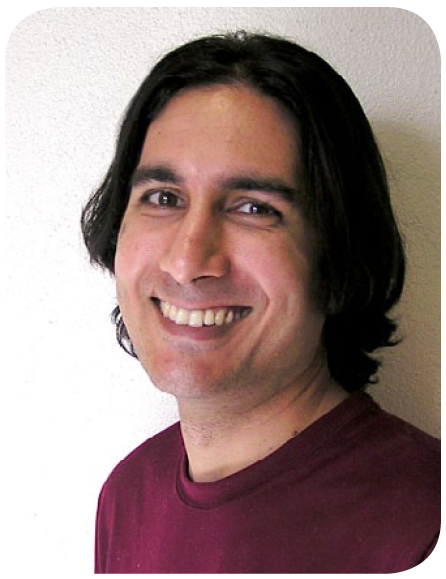 Since KUNM's Public Health New Mexico project takes a holistic view of public health, many of our stories in March focused on gun violence and what to do about it.

Young people from around the state were guests on an episode of Let's Talk New Mexico about school shootings. If you missed it, I highly recommend you hear what these young people had to say.

We put together this timeline of over a dozen instances of students facing threats of violence in the wake of the Parkland, Florida shooting, and there have likely been more since then.

In New Mexico, like most of the U.S., African American women have significantly higher rates of health problems during and after pregnancy. May Ortega reported on New Mexico's statistics and a a pilot program with the state's Office of African American Affairs that helps black women get better prenatal care.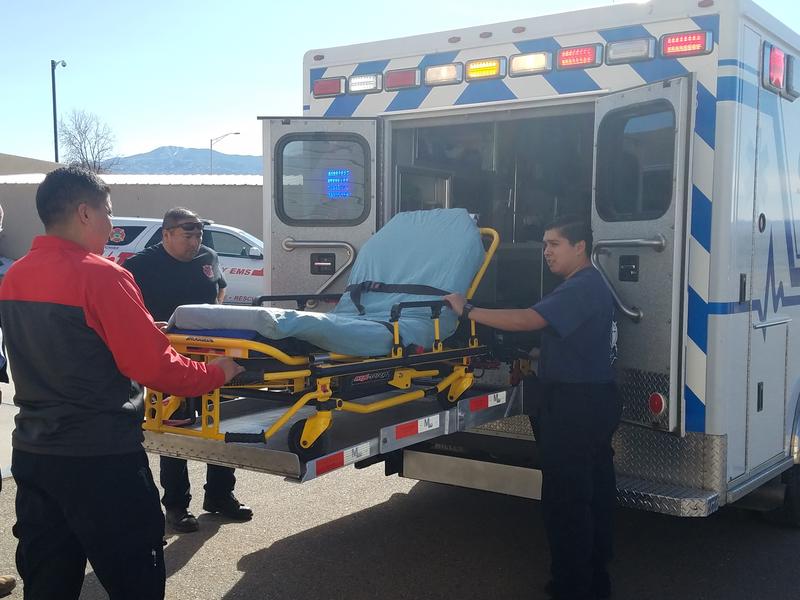 May also reported on Taos County's first ambulance made specifically to transport obese patients. It can make it safer and more comfortable for heavier people to get medical assistance. The county got it with a grant worth more than $25,000, making it the only one of its kind north of Bernalillo County.

Next month look for more stellar reporting from the Public Health New Mexico team. KUNM's Public Health New Mexico is funded by the W.K. Kellogg foundation, the McCune Charitable Foundation, the Con Alma Health Foundation and KUNM listeners.
Sunday, April 1
11:00 am
NPR Embedded Special:
PROGRAM 1: COLLUSION
The first program covers the question of "collusion" -- whether or not President Trump's campaign coordinated with Russia in its efforts to disrupt and influence the election. This episode reaches back to 1987 (Donald Trump's first visit to Moscow) and examines Trump business ties to Russia over the decades. The hour also explores contacts between the Trump Campaign and Russia and evidence that the Campaign may have coordinated with the Russians.
NPR's Embedded team has produced two one-hour radio programs on the investigation of Russian interference in the 2016 U.S. presidential election. Host Kelly McEvers reports on two key questions explored by Special Counsel Robert Mueller.
Sunday, April 1
6:00 pm
Radio Theatre: Suddenly One Morning by Charles R. Swindoll

The Easter story as told through the eyes of Zacharias, a Jewish shopkeeper in Jerusalem who witnessed Jesus's entrance into the city the week before His death, the sorrow and pain of His crucifixion, and the bewilderment of His resurrection.
a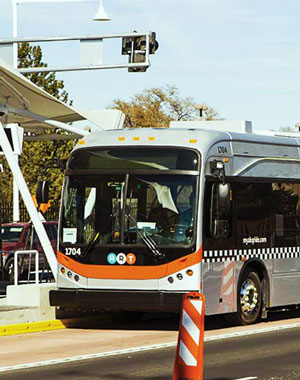 Friday, April 6
8:00 am
New Mexico People Places and Ideas
Albuquerque's newly elected Mayor, Tim Keller, has pronounced ART (Albuquerque's Rapid Transit bus system built to run down the middle of Central) a

"bit of a lemon." Why? Well, the electric buses leak, can't hold a proper charge, and don't align with stations. Worse, Albuquerque spent $130M on the system, relying on an $80M reimbursement from the Feds, but Mayor Keller says that "check is not in the mail." Now what? New Mexico People Places and Ideas host Stephen Spitz sits down with Mayor Tim Keller to learn more about these problems and where ART is headed. Produced with assistance of Marshall Broyles and Lynn Schibeci.
Saturday, April 7
6:00 am
New Dimensions: "Moving From Despair To Hope In Threshold Times" with Paul Rogat Loeb
Sometimes our activity for positive change in the world makes a visible leap and other times the impact of our work takes a seemingly long time to show any results. As Loeb points out, "You draw hope from the knowledge that whatever it is that you do, something unexpected is going to happen. And, it often happens at the periphery of your vision."
Loeb is the author of: The Impossible Will Take a Little While: Perseverance and Hope in Troubled Times
Sunday, April 8
11:00 am
NPR Embedded Special:
The second program covers the question of "obstruction." This second major thread of Mueller's probe asks whether the Trump team sought to impede the investigation of contacts with Russia. A charge of obstruction of justice could be brought regardless of any finding about whether the campaign actually coordinated with the Russian government. This report starts in December 2016 with the story of former National Security Adviser Michael Flynn. It then focuses on the President's interactions with FBI Director James Comey and explores other crucial points in the first year of both the Russia investigations and the Trump presidency.
NPR's Embedded team has produced two one-hour radio programs on the investigation of Russian interference in the 2016 U.S. presidential election. Host Kelly McEvers reports on two key questions explored by Special Counsel Robert Mueller.
Sunday, April 8
6:00 pm
Radio Theatre: The Unexpected Man by Yasmina Reza
Two strangers share a train compartment – each privately longing for connection with the other, in Yasmina Reza's The Unexpected Man, starring David Suchet and Harriet Walter. From LA Theatre Works.
Saturday, April 14
6:00 am
New Dimensions: "Changing Our Brain For Resilience" with Rick Hanson, Ph.D.
Hanson assures us that the core of our being is "calm strength." It is the background of who we are; it is a fundamental quality, the "wallpaper of our mind." This dialogue is filled with practical wisdom to support us in growing calmness and well-being so we may be more effective and resilient in our lives.
Hanson is the author of: Resilient: How to Grow an Unshakable Core of Calm, Strength and Happiness
Sunday, April 15
11:00 am
HumaNature: One Hour Special #3
A special edition of HumaNature formatted for air: a man walks from Mexico to the tip of South America with his best friend, a donkey; a man crosses the Atlantic to deliver livestock to post-World War II Europe; and an outdoorsy woman discovers she has more to learn about the wilderness. HumaNature is produced by Wyoming Public Media.

Sunday, April 15
6:00 pm
Radio Theatre: Dissenting Adults: Two short plays by David Auburn and Leland Frankel
Featuring Emmy winners Bobby Cannavale and Martha Plimpton. DISSENTING ADULTS explores how we live in personal bubbles and don't care to exit them. First, from David Auburn comes a riveting, witty world-premiere commission for Playing on Air: GUN SHOW. Two couples out for dinner react and over-react to the news that one of their party has purchased a pistol. It's a brilliantly written piece that deals with the way we navigate the serious and the frivolous in strangely equal measure and the battle of the sexes. Next, in Leland Frankel's modern comedy WOKE, an aspiring Pakistani-American rapper crashes into a young activist and the cop pursuing her. Both plays are followed by an exclusive behind-the-scenes chat with the artists and host, Claudia Catania.

Saturday, April 21
6:00 am
New Dimensions: "Effective Questions To Change Negative Habits Of The Mind" with Ora Nadrich
Ora Nadrich shares a series of fundamental and effective questions we can ask ourselves when we pay attention to our negative thoughts. Her "Says Who!" Method can transform fear-based and worried thoughts into thoughts that serve our well-being and support positive action.

Nadrich is the author of: Says Who?: How One Simple Question Can Change the Way You Think Forever
Sunday, April 22
11:00 am
Climate On Your Plate
What should climate-conscious people do to eat most sustainably? How people approach their diet is deeply personal and can be extremely controversial. Roughly 1 in 9 people in the world are undernourished. Addressing hunger while making the food chain more sustainable is critical for addressing climate change. Are GMOs the answer to food shortages, or do they jeopardize our crops with destructive cycles of pesticide resistance? Is our appetite for animal protein unsustainable, is worldwide veganism possible? Greg asks scientists, farmers, and filmmakers what's best for climate and our health.

Sunday, April 22
6:00 pm
Radio Theatre: La Vida Latina: Confessions of Mexpatriate by Raul Garza
"Confessions of a Mexpatriate" follows the journey of Samuel, a modern-day, media-minded Mexican American who travels to Mexico to try to unplug from his American side and connect with his roots in the land of his ancestors. His account of what happens is both funny and fearful—and may say as much about the land he left behind as the one he has entered.

Friday, April 27
8:00 am
PEACE TALKS RADIO, the series on peacemaking and nonviolent conflict resolution: "Humane Policing"
We talk with former Colorado deputy Darron Spencer who wrote a book called Humane Policing. In it he shares tips that made him an effective officer because he believes there to be a "growing crisis in our society involving the frequently inhuman and unproductive—even when lawful—interactions between law enforcement and the public." Also, we hear about an example of humane policing from Albuquerque Police Officer Simon Drobik. Drobik was part of a team of officers who worked for 13 hours to talk to safety a man who was threatening to jump from a highway overpass. The effort caused the diversion of all traffic in both directions near one of the busiest interchanges in the country for most of the 13 hours. Although the inconvenience to motorists was significant, says Drobik, "If that was someone you loved, how long would you want us up on that bridge?" Paul Ingles hosts.
Saturday, April 28
6:00 am
New Dimensions: "A Scientific Approach To Magic" with Dean Radin, PH.D.
Scientist Radin separates magic into three categories: divination, force of will, and theurgy (evoking spirits - God force - through ceremony). Toms and Radin share some fascinating "magical" stories from their own lives. Radin posits that "The secret power of the universe is not made out of matter and energy and physical stuff but is probably made out of consciousness."

Radin is the author of: Real Magic: Ancient Wisdom Modern Science, and a Guide to the Secret Power of the Universe

Sunday, April 29
11:00 am
HumaNature: One Hour Special #3
A special edition of HumaNature formatted for air: a man walks from Mexico to the tip of South America with his best friend, a donkey; a man crosses the Atlantic to deliver livestock to post-World War II Europe; and an outdoorsy woman discovers she has more to learn about the wilderness. HumaNature is produced by Wyoming Public Media.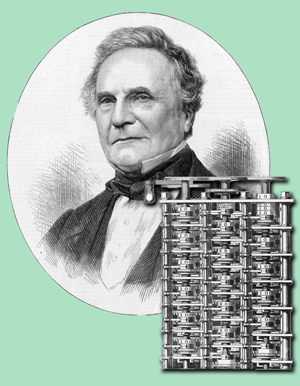 Sunday, April 29
6:00 pm
Radio Theatre: A Different Engine by Charles Moster
A Different Engine tells the story of the 19th C. English mathematician Charles Babbage who originated the idea of a programmable computer in the 1820s. Though his "Difference Engine" was never built during his lifetime, in 1985 the London Science Museum set out to construct a working Difference Engine No. 2 built faithfully to Babbage's original designs. The project took seventeen years to complete. The calculating section was finished in 1991, in time for the bicentenary of Babbage's birth, and the printing and stereotyping apparatus was completed in 2002. The radio play depicts Babbage's efforts to convince his contemporaries that he was not just some curmudgeonly lunatic and to secure funding to bring his project to completion. He was helped by Ada Lovelace, a brilliant mathematician and daughter of the poet Lord Byron. She was among the few of Babbage's contemporaries who fully understood his ideas. Working with him, she developed a program, which, had Babbage's invention actually been built, would have been able to calculate a sequence of Bernoulli numbers. Based on this work, Lovelace is now widely credited with being the first computer programmer.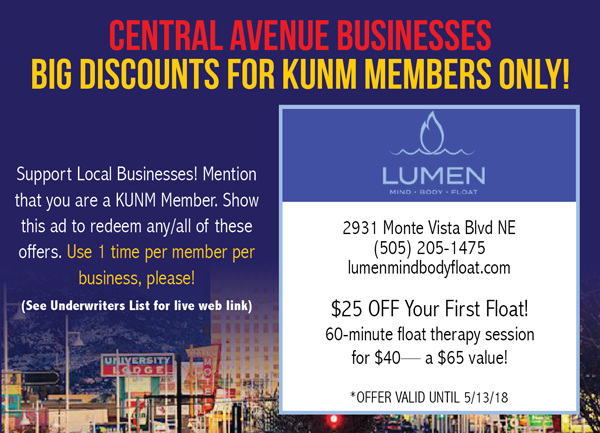 General Meeting of the
KUNM Community
---
Wednesday, April 25 at 6:00 pm
For volunteers, staff, members,
listeners and the general public in Oñate Hall, Room 133 on the UNM Campus

Radio Board Meeting
---
Tuesday, April 3 at 6:00 pm

Licensee's Meeting
---
KUNM is licensed by the FCC to the Regents of the University of New Mexico. The Regents' meetings are open to the public.
For a schedule of Regents' meetings, please click
here
Positive Energy Solar
3600 Pan American Fwy. NE
505-344-0071
positiveenergysolar.com
Pregenzer, Baysinger, Wideman & Sale PC
2424 Louisiana Blvd. NE # 200
505-872-0505
pbwslaw.com
Red Rock Roasters
4801 Jefferson St. Ne
505-883-1175
redrockroasters.com
Self Serve Sexuality Resource Center
3904 Central Ave. SE
505-265-5815
selfservetoys.com

Shelton Jewelers

7001 Montgomery Blvd. NE

505-881-1013

sheltonjewelers.com 


Tri-State Generation & Transmission 
tristategt.org

Vein Center of New Mexico
801 Encino Pl NE # C12
505-247-4849
veincenternm.com
Vessel Health

10601 4th St.NW

505-828-3000

vesselnm.com

Vibrance / Art-Food-Music
4500 Silver Ave SE
505-639-3401
vibranceabq.com

Weekly Alibi

Albuquerque's news and entertainment
weekly, free every Thursday at more than 800 locations

505-346-0660

alibi.com


Whiting Coffee Company

3700 Osuna NE

505-344-9144

Women's Specialist of New Mexico 
wsnm.org


EDGEWOOD

The Independent

2005A Rte. 66

505-286-1212

edgewood.news


SANTA FE

Dan Cron Law Firm,P.C.
425 Sandoval St. 
505-986-1334

cronlawfirm.com


Greenfire Times 

Newspaper dedicated to a diverse
and sustainable green economy.

505-471-5177

greenfiretimes.com

Keshi

227 Don Gaspar Ave.

505-989-8728

keshi.com

Railyard Urgent Care 

831 S St Francis Dr 

505-501-7791

railyardurgentcare.com

Santa Fe Reporter
P.O. Box 2306
505-988-5541
sfreporter.com

Ten Thousand Waves
3451 Hyde Park Rd.
505-982-9304
tenthousandwaves.com

ALBUQUERQUE & SANTA FE
Il Vicino Wood Oven Pizza & Brewery
Albuquerque & Santa Fe
ilvicino.com

Law Firm of Rothstein & Donatelli
Santa Fe, Albuquerque, Taos, Phoenix
505-988-8004
rothsteinlaw.com

Plants of the Southwest
6680 4th St. NW, Albuquerque
3095 Agua Fria St., Santa Fe
plantsofthesouthwest.com

LAS VEGAS
El Zócalo Cooperative Art Gallery
1809 Plaza
Las Vegas, NM 87710
elzocalogallery.com
Afropop Worldwide
Fri. 10 p.m. Music with an African influence from around the world.

All That Jazz
M-F noon. Jazz, straight ahead to fusion.

All Things Considered
M-F 5 p.m., Sat. & Sun. 5 p.m. Award-winning news magazine from NPR.

Alternative Radio
Sat. 6 p.m. The view from the other side, from some of the most progressive writers, thinkers and activists of our time.

Art of the Song
Wed. 10 p.m. Art of the Song explores songwriting and the creative process, featuring New Mexico talent and internationally acclaimed performers.

The Blues Show
Wed. 7 p.m. The spectrum of blues music, plus interviews, live performances, and blues news.

CCNS Update
Sat. 7 p.m. Concerned Citizens for Nuclear Safety presents the latest local, national and international news about nuclear issues.

The Children's Hour
Sat. 9 a.m. Enriching, educating, enlightening, and entertaining radio for kids of all ages.

Coffee Express
Fri. 1-3 a.m. Live, improvised music, voice, effects and sound collages, combined with on-air phone callers, CDs and records, tape loops, internet audio, etc. It's not jazz, but it is caffeinated.

Corazón Tanguero
1st and 3rd Saturdays, 4:15-4:45 p.m. Music/Culture program on Argentine Tango, featuring works from the Old Guard of the 1920s through the Golden Age of the 30s and 40s and beyond.

Counterspin
Tues. 8:30 a.m. A critique of the week's news coverage by other media, from FAIR.

Democracy Now
M-F 4 p.m. From Pacifica, diverse commentators focus on the issues affecting individuals and society.

Ear to the Ground
Sat. 7 p.m. Alocal music showcase, featuring live performances by local talent.

Espejos de Aztlán
Mon. 7-7:30 p.m. Bilingual arts and public affairs program with interviews.

Folk Routes
Sat. 10 a.m. A weekly sampling of the best in folk, blues to bluegrass and beyond.

Freeform
Music M-F 1:30-4 p.m.; overnights. A diverse showcase of KUNM's music library, uncovering common roots in music from different places and times.

Fresh
Thu. 10 p.m. New Mexico's international electronic and "new" music program featuring guest composers, artists and interviews.

Global Music
Mon. 10 p.m.
Exploration of music from around the world.

Grassroots New Mexico
A weekly social justice radio calendar from the Albuquerque Center for Peace & Justice.

Home of Happy Feet
Tues. 7 p.m. Folk music in the broadest sense of the term. Bluegrass, blues, cajun, zydeco, western swing, rockabilly, Tex-Mex, and more!

House that Jazz Built
Sun. 11 p.m. Uncompromising creative music from the past 30 years.

Iyah Music
Thur. 7 p.m. Reggae and roots; a spectrum of African-influenced music.

KUNM Specials
Sun. 11 a.m. From public affairs to holiday specials, the latest and best in local and national production.

Latino USA
Mon. 8:00 a.m. English-language radio journal of Latino news and culture.
Thur. 9 a.m. The voices of New Mexicans discussing our most pressing issues and challenges, and sharing achievements.
Living on Earth
Wed. 8 a.m. Weekly environmental news and information program, from NPR.
Morning Edition
M-F 5-8:30 a.m. Award-winning morning news magazine from NPR.

Music to Soothe the Savage Beast
Tues. 10 p.m. Progressive and indie rock culled from new releases you're not likely to hear anywhere else. Plus live and recorded local music.

Native America Calling
M-F 11a.m. The nation's first live daily call-in program by, for, and about native people. 1-800-99NATIVE.

National Native News
M-F 11:01 a.m. 5-min. newscast focusing on Native American issues.

New Dimensions
Sat 6 a.m. Dialogues presenting a diversity of views from many traditions and cultures, with practical knowledge and perennial wisdom for a more healthy life of mind, body and spirit.

News at Noon
M-F noon. News update from NPR.

Other Voices, Other Sounds
Sun. 9 p.m. Contemporary music & sound art with an international perspective.

Performance Today
M-F 9 a.m. A two-hour program of classical music performances, recorded live; from NPR.

Psychedelic Radio Head~Shoppe
Sat. 10:30 p.m. Deep tracks from the rock 'n' roll underground. Electric music for the mind and body from the '60's & '70's.



Radio Theatre
Sun. 6 p.m. From traditional to experimental, set in the theater of the mind.

Raíces
Mon. 7 p.m. & Sat. 2 p.m. Latin American Freeform music, all genres of Hispanic music.

Route 66
Sat. 8 p.m. "Oldies," commentary, dedications & requests, and special guests.

Salsa Sabrosa
Fri. 7 p.m. Afro-Caribbean-influenced music.

Singing Wire
Sun. noon. Native American music, traditional to today's sounds of folk, C&W, rock.

Spoken Word
Sun. 8 p.m. You know the power of words; now hear the power of poetry. Y mas!

StarDate
M-F 7 p.m., Sat. & Sun. 6 p.m. Two-minute travelguide to the universe. What to look for in the night sky, tales of ancient skylore.

Street Beat
Fri. 11 p.m. New Mexico's source for live turntablism, mixing and scratching a variety of rare funk, rock, jazz, and soul breaks, from the old to the new.
Sub Sequence/Soul Delux
Sat. 1 a.m. The thinking perosn's Club music.
This American Life
Sun. 4 p.m. A quirky look at modern life through fact, fiction and found tape.

This Way Out
Fri. 8:30 a.m. International lesbian and gay news magazine.

Tombstone Rock
Wed. 11 p.m. Ear-shredding metal music other stations are afraid to play.

Train to Glory
Sun. 6 a.m. Sunday morning Black gospel music featuring traditional, contemporary, and local church choirs.

Voces Feministas
First Sat. every month, noon. Features the voices of third world women, and women of color.

Weekend Edition
Sat. 7 a.m., Sun. 9 a.m. Weekend news magazine from NPR.

Women's Focus
Sat. noon. Women's magazine on politics, art, culture, news, and information.

Youth Radio/Generation Justice
Sun 7 p.m. The voices of NM teens via news, commentary, interviews and music.